The Singular and Extraordinary Tale of Mirror and Goliath
by

Ishbelle Bee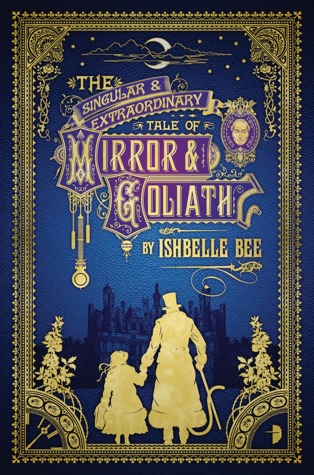 1888. A little girl called Mirror and her shape-shifting guardian Goliath Honeyflower are washed up on the shores of Victorian England. Something has been wrong with Mirror since the day her grandfather locked her inside a mysterious clock that was painted all over with ladybirds. Mirror does not know what she is, but she knows she is no longer human.

John Loveheart, meanwhile, was not born wicked. But after the sinister death of his parents, he was taken by Mr. Fingers, the demon lord of the underworld. Some say he is mad. John would be inclined to agree.

Now Mr Fingers is determined to find the little girl called Mirror, whose flesh he intends to eat, and whose soul is the key to his eternal reign. And John Loveheart has been called by his otherworldly father to help him track Mirror down...
"
My name is John Loveheart and I was not born wicked."
What a whimsical, wicked little book!
I've been sitting here for the last half hour trying to come up with a way to put into words how I feel about it, and still I've got nothing.
The writing style was lyrical and it sucked me right in and I gobbled this book up in one sitting.
Some people have shelved this book as YA, but don't be put off if you don't care for the genre. I don't consider this YA at all. Some of the characters might be young, but
they aren't YA characters.
Mr. Loveheart is too twisted, too bloodthirsty. Mirror is too unapproachable. When you add in the blood and gore it becomes very much an adult book. There may be a pretty cover on the front and the writing style is beautiful, but the story is anything but. It is bloody and twisted.
Oh well, to each his own. I don't really know where to shelve it either.
I don't often buy books because I have a budget and a very good library system, but this series has just made my autobuy list.