Irresistible Force
by
D.D. Ayres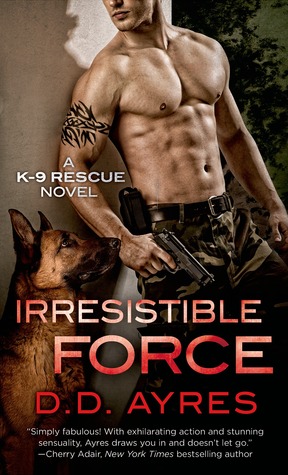 When adrenaline runs high, so does the force of desire…

For Shay Appleton, it's love at first sight when a gorgeous stray dog is brought into the animal shelter where she works. She just knows he'll make a terrific watch dog—and with an abusive ex who won't let go, she needs all the protection she can get. But Shay never suspected that her new pet is actually a trained police K-9 named Bogart—until Bogart's even more gorgeous, human partner shows up on her doorstep.

Officer James Cannon is one tall, strong alpha male who's convinced that Shay stole his dog. But once he gets closer to the suspect, he realizes that this stubborn, independent woman not only needs a guard dog, she needs James as well. It seems that someone from her past is stalking her, and threatening her life. When danger meets desire, will James risk his career and his best friend…to protect the woman who's stolen his heart?
There is something about a man who loves animals...
This was a thrilling book. I loved the characters and the interactions between them. The author did a great job of describing how K-9 officers' train and work together, without delving into so much detail that the reader is swamped. The writing was very well done.
The characters were well-defined and interesting. They had a lot of personality. Bogart, the K-9, was one of the best animal characters I've read in a while.
I'd highly recommend this book to anyone who likes romantic suspense.
Thanks to the publisher and Netgalley for the free review copy!