A History of Glitter and Blood
by
Hannah Moskowitz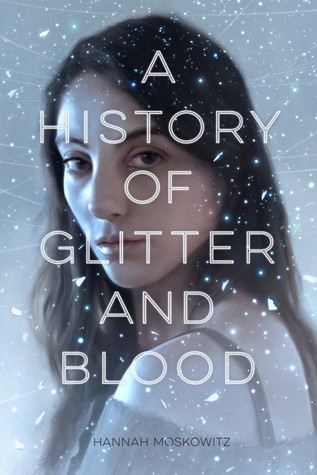 Sixteen-year-old Beckan and her friends are the only fairies brave enough to stay in Ferrum when war breaks out. Now there is tension between the immortal fairies, the subterranean gnomes, and the mysterious tightropers who arrived to liberate the fairies.
But when Beckan's clan is forced to venture into the gnome underworld to survive, they find themselves tentatively forming unlikely friendships and making sacrifices they couldn't have imagined. As danger mounts, Beckan finds herself caught between her loyalty to her friends, her desire for peace, and a love she never expected.

This stunning, lyrical fantasy is a powerful exploration of what makes a family, what justifies a war, and what it means to truly love.
Oh friends...There are so many mixed reviews of this book! It seems as though everyone either loved it or hated it. They either understood it or ended up lost in a cloud of confusion. I suppose that's to be expected. It is a Hannah Moskowitz book, after all.
One of the main grievances I've read is that some people think the author forgot to edit out notes written to herself about what she was writing. That is, in fact, not true. The story is told from the point of view of a character who is writing a story about a girl, a group of friends, and the events that happened to them during the war between the gnomes and the tightropers. It is the first draft of the character's narrative so there are some notes to himself and mistakes that he points out. Still odd, but completely intentional and it will make sense toward the end.
Hannah Moskowitz writes with a lyrical style that may be very different to most readers. It can be confusing if you dwell on it too much. My advice is to relax and not try to force the meaning to come. When you get down to it, it's pretty simple. It's a story about war, unrequited love, and above all, friendship. It is about the sacrifices we make for those we love.
The main character is sixteen but I honestly don't think that this should be classified as YA. Do most YA novels nowadays deal with prostitution and cannibalism? Gosh, I hope not. (Ok, who am I kidding? I'd totally read those)
Everything about this book was great, from the unreliable narrator to the lyrical writing and the dark subject matter.
I'd recommend it to those who don't mind having their mind stretched a bit.
I received a free ebook copy from Netgalley in exchange for an honest review.