Vampires Never Cry Wolf
by
Sara Humphreys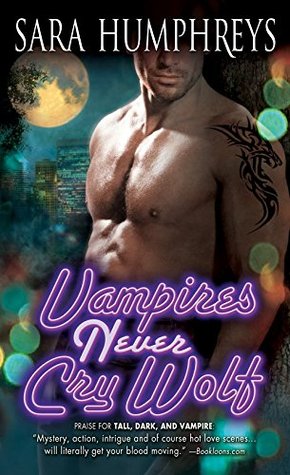 Sadie Pemberton is the DJ at the hottest vampire club in New York City, and she loves her freedom almost as much as she hates werewolves. She has no desire to tie herself to anyone for eternity—even the deliciously sexy Killian Bane—werewolf prince and heir apparent who has been sent to patrol the city.

But Sadie bears the mark of the moon—the mark that Killian has been looking for, the mark that's meant to reveal his perfect mate. How can the fates be so cruel? Even more importantly, how is he ever going to change her mind?
This is the first book I've read by Sara Humphreys and I have to say that I'm pretty impressed. The writing style was great and I loved the humor/snark that the characters exhibited.
The pacing kept me on my toes and I never felt as though the story lagged.
Vampires and werewolves are very mistrustful of each other and that is something our main characters had to struggle with throughout the book. No one ever said love was easy!
This is a great book for lovers of paranormal romance and anyone who likes vampires and werewolves.
Thanks to the publisher and netgalley for sending me a copy to review