Never Surrender to a Scoundrel
by
Lily Dalton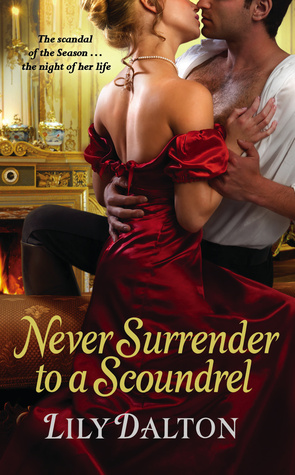 A Reckless Desire...

Lady Clarissa Bevington is in trouble. A reckless indiscretion has left her with two choices: ruin her family with the scandal of the Season, or marry Mr. Kincraig, the notorious scoundrel mistaken as her lover. Desperate and disgraced, Clarissa vows to love and cherish a veritable stranger, a man whose eyes smolder with danger—and undeniable desire...

An Unexpected Arrangement

As an agent for the Crown, Lord Donovan Blackmer has spent the last two years guarding Clarissa's grandfather from an unknown assassin while disguised as the rakehell Kincraig. His mission may now be over, but his duty has just begun. Salvaging his beautiful, impetuous wife's virtue will cost him his fortune and his position as an officer—but it might save him from the ghosts that haunt his own past. When their marriage "in name only" leads to exquisite seduction, Donovan must risk the only thing he has left to lose . . . his heart.
*I received an ARC from the publisher via Netgalley*
I haven't read the two previous books in the series, but after reading Never Surrender To A Scoundrel I'm going to remedy that right away. I loved this book!
The characters seemed very real to me. Anyone who's read my other reviews knows that good characterization is something I look for most in a book. I was very pleasantly surprised with this one. The plot itself touched on something that isn't usually mentioned in romance and I like that the author didn't shy away from it.
Clarissa made a terrible mistake, one that is forgivable considering that she is young and naïve. I loved that she picked herself up and moved on and tried to make the best of her situation. And she did it in such a way that I began to admire her quite a bit. She is sweet and strong, never tempestuous like most romance heroines turn out to be. I adored her.
Dominick (or Donovan, since I think the name was changed before publication?) was everything I love in a hero. He's the very definition of tall, dark, and handsome with an extra helping of dangerous. Yum.
This book had everything: great romance, well thought-out plot, and great characters.
I'd recommend it to anyone who reads romance.