Angry Optimist: The Life And Times Of Jon Stewart
by Lisa Rogak
A New York Times Bestseller Since his arrival at The Daily Show in 1999, Jon Stewart has become one of the major players in comedy as well as one of the most significant liberal voices in the media. In Angry Optimist, biographer Lisa Rogak charts his unlikely rise to stardom. She follows him from his early days growing up in New Jersey, through his years as a struggling standup comic in New York, and on to the short-lived but acclaimed The Jon Stewart Show. And she charts his humbling string of near-misses—passed over as a replacement for shows hosted by Conan O'Brien, Tom Snyder, and even the fictional Larry Sanders—before landing on a half-hour comedy show that at the time was still finding its footing amidst roiling internal drama.

Once there, Stewart transformed The Daily Show into one of the most influential news programs on television today. Drawing on interviews with current and former colleagues, Rogak reveals how things work—and sometimes don't work—behind the scenes at The Daily Show, led by Jon Stewart, a comedian who has come to wield incredible power in American politics.
I grew up in a family that watched Fox News religiously. Every day, from the time I was home from school to the time we went to bed there was hardly ever anything but Fox in the background. It was like the soundtrack to my life. My dad's favorite: Bill O'Reilly. I have a family member who keeps the radio tuned to Rush Limbaugh and I've had to suffer through whenever I was visiting.
I hated every moment of it and after a while I grew anxious every time the tv was on.
One day I ran across The Daily Show, quite by accident, and was amazed that someone dared to call out Fox News. Even better, Jon Stewart was making fun of these people that I had always thought ruled the news world. It was funny and it made me think. There was no spewing hatred at homeless people or immigrants like you see on Fox. It was like Jon Stewart understood how disillusioned I had become with news commenters.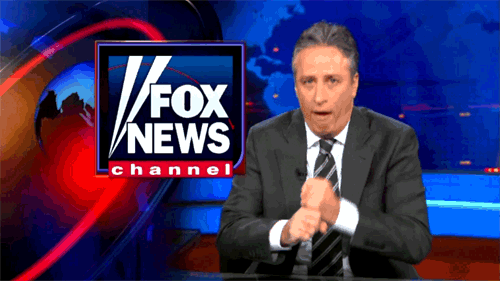 I requested this book hoping to gain more insight into Jon Stewart as a person. I'm not sure that the book delivered quite what I was hoping. There were a lot of quotes and facts from past interviews. The author wrote in such a way that felt very detached from Jon Stewart. It was hard to believe that she had ever met him. I was hoping to understand him better and get a sense of his personality off-camera.
It was a good book for a general sense of Jon's life. I just wish it delved deeper.
*Thanks to Netgalley and the publisher for this free review copy*