Kiss the Earl
by
Gina Lamm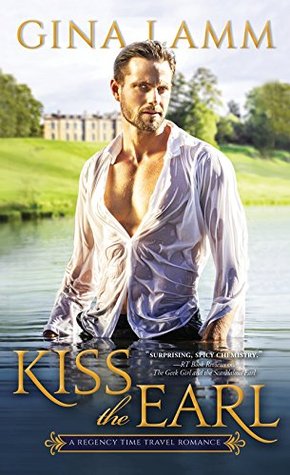 On the eve of her first comic book release, Ella Briley has a problem: no date to the launch party. Things go from bad to worse when she stumbles into the past . . . and straight into the arms of her very own Mr. Darcy.

Patrick St. John, Earl of Meadowfair, is too noble for his own good. To save his friend from what is sure to be a loveless marriage, he's agreed to whisk the girl off to wed the man she truly loves. But all goes awry when Patrick mistakes Ella for the would-be bride . . . and finds this modern girl far too tempting for even the noblest of men to resist.
This is book #3 in the Geek Girls series. I actually had no idea that this was part of a series when I requested it. No wonder Ella took time travel in stride!
I really loved the way that the author constantly showed the differences between the two timelines. Throughout the book Ella kept her modern personality and never lapsed into ordinary speech patterns the way some characters in other time travel romances do.
Ella was funny and smart. She was exactly the type of character that I love and I easily connected with her. Patrick was a bit of a jerk sometimes but I couldn't help but like him.
This was a sweet romance story with a little bit of angst thrown in. The writing was excellent and I loved the story line.
I'm going to read the first few books in the series
for sure.
I'd recommend it to anyone who loves geeky girls, historical romance, or time travel.
Thanks to the publisher and Netgalley for sending me an ARC.